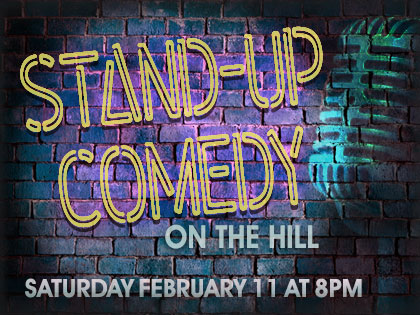 Stand-Up Comedy on the Hill: February
02/11/2023 - 5:00 pm
LOCATION
Hillcrest Center for the Arts
Stand-Up Comedy on the Hill
In-doors in our Community Room*
Saturday, February 11 at 8pm
At the Hillcrest Center for the Arts; 403 W. Hillcrest Drive in Thousand Oaks
Reserved Seats: $15
(Unsold Wheelchair and Companion Seats sold at the door.)
Presenting a new lineup of professional comics each and every month! We've teamed up with local comedian Jason Love to produce a top-tier show, bringing some of Hollywood's funniest headliners to an intimate setting in Thousand Oaks.
Featuring:
TBA
For audiences 18+
Please note: Per Current Ventura Health Agency rules, masks are no longer required but are still strongly recommended for everyone. Alcohol is not permitted at this event. Patrons may not heckle the comics. Violation of these policies may cause the show to be stopped until all audience members comply.
Line-up subject to change.
*Event will be in-doors until summer.